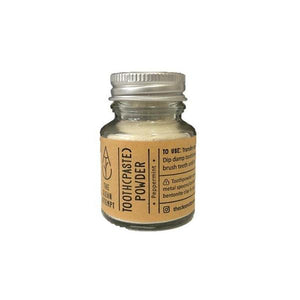 Toothpaste Powder (100g)
The Clean Attempt
Regular price SGD 0.00 SGD 13.90 Sale
We brush our teeth at least twice daily, and we ingest a bit of the toothpaste each time. So why not choose to use a toothpaste that is made of only natural ingredients that are not harmful to ourselves? Better yet when it comes in a sustainable packaging. Yay to our health and that of our planet! 
Product use
Pour a small amount of toothpowder onto a small dish
Dip damp toothbrush bristles into toothpowder
Brush teeth as usual
Product specifications
Made out of only three natural ingredients - bentonite clay, baking soda and peppermint essential oil
100g of toothpowder in each bottle which will last for approximately 6 months when used twice daily
How is this product sustainable?
Replaces the use of commercial toothpaste that comes in plastic tube packaging that end up in landfills when discarded
Glass container is recyclable