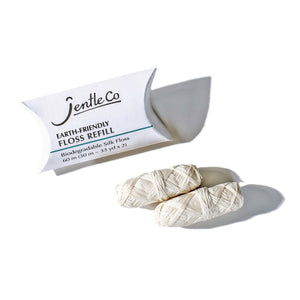 Silk Dental Floss (Refill)
JentleCo
Regular price SGD 8.90 Sale
As many as 700 million plastic dental floss containers are discarded each year! JentleCo's silk floss is 100% biodegradable and plastic-free. A sustainable swap to replace most floss made of plastic and packaged in single use dispensers.

Product specifications
2 Silk Dental Floss (30m each)
Silk Dental Floss is made by coating silk with unflavoured 

Candelilla Plant Wax
How is this product sustainable?
Replaces the use of dental floss that comes in single use plastic containers
Dental floss is made using silk; 100% plastic-free and biodegradable