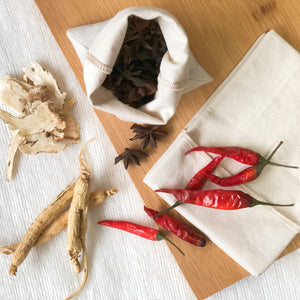 Reusable Herb & Spice Bag
Natural Linens Boutique
Regular price SGD 8.90 Sale
Having to constantly maneuver your ladle in a big pot of soup or stew to escape from floating herbs and spices is such a battle. Place those herbs and spices in this reusable bag to achieve a clear bowl of hot, comforting meal. Cleaning up after cooking is going to be so much easier too. Other uses include:
Scented bag of your favourite dried flowers
Pouch to store precious jewelry / accessories
Ice pack to sooth bruises

Product specifications
Made from organic cotton muslin
Fold over close
Dimensions: 4.5" x 6" (11cm x 15cm)
Product care
Rinse or hand wash with mild soap
Machine washable
How is this product sustainable?
This reusable herb and spice bag is made of natural material i.e. organic cotton muslin
Reduces the use of single use disposable herb bags