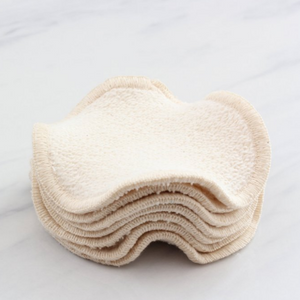 Organic Cotton French Terry Facial Pads
Natural Linens Boutique
Regular price SGD 13.90 Sale
Reusable facial pads are a necessary addition to a greener skincare routine. Handmade from organic heavy french terry cotton that is luxuriously soft, our facial pads are extremely gentle on your skin. French terry cotton is also highly absorbent which means it will transfer skincare products effectively onto your skin. Use it to remove makeup or apply toner, and say goodbye to cotton fibres that linger on your skin from using disposable cotton pads!
*Please note that facial pads now come in squares instead of rounds. Less material scrap waste generated by making squares.
Product specifications
Facial pads are made of 100% GOTS certified organic unbleached heavy french terry cotton
Edges are sewn with organic unbleached cotton thread
Each facial round is 2 ply
Dimensions: 4" x 4"
Product care
Hand wash recommended
Machine washable 
Wash with mild detergent without fabric softeners
How is this product sustainable?
Reduces the use of single use disposable cotton pads that end up in landfills