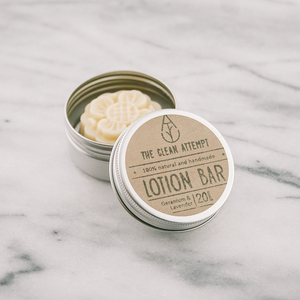 Lotion Bar
The Clean Attempt
Regular price SGD 11.90 Sale
These solid body lotion bars are handmade from natural ingredients that are great for our skin and even hair ends! The lotion bars are also ultra portable, you will not have to worry about messy spills especially when you are traveling.
Product use
Activate lotion bar with body heat by rubbing onto skin then massage in
Product specifications
Crafted with only natural ingredients - beeswax, cocoa butter, coconut oil, shea butter, lavender and geranium essential oil
Volume: 20g; lasts approximately 2 months when used daily
How is this product sustainable?
Metal tin container is recyclable at the end of product use
Reduces use of liquid lotion packaged in plastic bottles