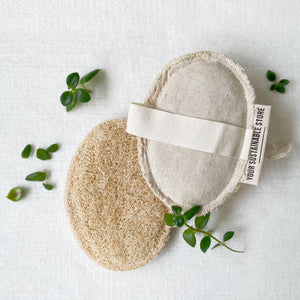 Loofah Body Scrub
Your Sustainable Store
Regular price SGD 5.90 Sale
This sponge like material is a great natural exfoliator. The slightly rough texture of the loofah gently exfoliates the skin and stimulates blood circulation for smooth and glowing skin. Our Loofah Body Scrub is sewn to a comfortable handle making it easy to keep a firm grip. 
Product specifications
Handle on the back for a firm grip
Hook on the side to hang dry

Dimensions: Width 10cm; Length 13.5cm
Product care
Keep dry in between use, ideally in a location with good air flow 

Recommended to replace after 6 months of use; use it to clean kitchen sink and counter before composting or discarding
How is this product sustainable?
Reduces the use of exfoliators with microbeads that are usually made of plastic; these microplastics are harmful to our environment

Reduces the use of exfoliating scrub cloths made of plastic that end up in our landfill

Loofah Body Scrub is made of natural materials, compostable / biodegradable at end of life