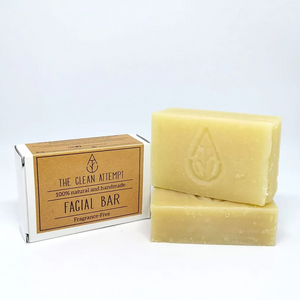 Face Cleansing Bar
The Clean Attempt
Regular price SGD 15.90 Sale
Made from one third shea butter, one third coconut oil and one third olive oil, our face cleansing bars are gentle and care for even the most delicate skin. Shea butter provides a rich blend of fatty acids, vitamin A and antioxidants to help soothe dry skin, eczema and reduce the appearance of wrinkles. Can be used on body and babies as well.

Product specifications
Volume: 95g; Lasts for at least half a year when using it twice daily
Vegan friendly
Free from parabens, sulphates, triclosan, phthalates, fragrance, plastic packaging and animal cruelty
Product ingredients
Butyrospermum Parkii butter, Sodium Olivate, Sodium Cocoate, Aqua 
Product use
Work up a lather with wet hands and massage on face (or body) as a cleanser
How is this product sustainable?
Reduces the use of facial cleansers packaged in plastic tubes and bottles
Paper box packaging is recyclable