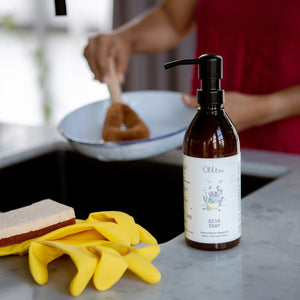 Dish Soap
Ollie
Regular price SGD 12.90 Sale
Clean dishes without the toxic residue. Ollie's dish soap cuts through grease and grime easily with the power of essential oils. 
Product specifications
Volume: 500ml
Packed in 100% post-consumer recycled plastic
100% plant-based ingredients

Free from parabens, sulphates, phthalates, ammonia

Sensitive skin, kid, and pet friendly

Vegan and cruelty-free
Product ingredients
Water, Capryl/Capryl Glucoside, Sodium Cocoyl Glutamate, Coco Glucoside, Vegetable Glycerin, Xantham Gum, Dehydroacetic Acid, Benzyl Alcohol, Bergamot Essential Oil, Geranium Essential Oil, Lemon Mrytle Essential Oil, Sodium Phytate, Vitamin E, Citric Acid 
Product use
Pump soap onto sponge, messy dishes or sink

Scrub, wash, and rinse

Do not use in an automatic dishwasher
How is this product sustainable?
Packaging is made using post-consumer recycled plastic; no virgin plastic was used


Essential oils used are sourced directly from farms, enabling micro farmers to thrive financially

No middle layers between the farmers and Ollie means reduced carbon footprint from shipping and packaging

Botanical raw materials are either sustainably wild harvested or come from ethical plantations where replanting is a norm